Now, the bad news:
The last 6 weeks have set records with load postings way outpacing truck postings. At the same time, the ACT's driver availability index predicts 2021 to be the worst year on record.
Just what we all need with so much freight available to move.
But why are things this way? We've been talking about the driver shortage forever. And the usual concerns of driver retirement and declining entry into the market are still at play. But are there new factors at play?
Why is this a new challenge?


1

Fewer New Drivers

If we begin at the starting point of drivers, driving school, the industry has seen a 40% drop in CDL training due to closures....... and about 20% of schools are still closed. So of course there are fewer drivers entering the industry.


2

Unemployment Competition

And, there are more drivers leaving the industry. The 1.9 trillion dollar stimulus package has boosted unemployment rates. In fact, comparing unemployment benefits by state reveals that many drivers would make more by staying home than getting on the road to haul freight.


3

The Drug Clearinghouse

The drug clearinghouse removed another 45,000+ drivers from the industry. Of those 45,000+ drivers, more than 34,000 have not begun the process needed to return to work. Only around 6,000 have actually completed the process.

These factors combined with the usual issues the industry faces have made 2021 the most challenging year ever for recruiting truck drivers. However, there are more factors at play that make recruiting drivers from this shrinking pool even more difficult.


4

Retention Rates

Because freight is white hot, most current drivers are getting plenty of miles. In every survey done by Randall-Reilly, getting or not getting miles was a main component in drivers changing fleets. And from what we've witnessed, clicks on job postings have continually declined throughout the year. This would indicate that movement between jobs for drivers has slowed.

This however hasn't slowed the competition for drivers. Postings for driving jobs have steadily increased. And in the graph below you can see the driver availability versus job postings for drivers. That isn't a lot of drivers to go around.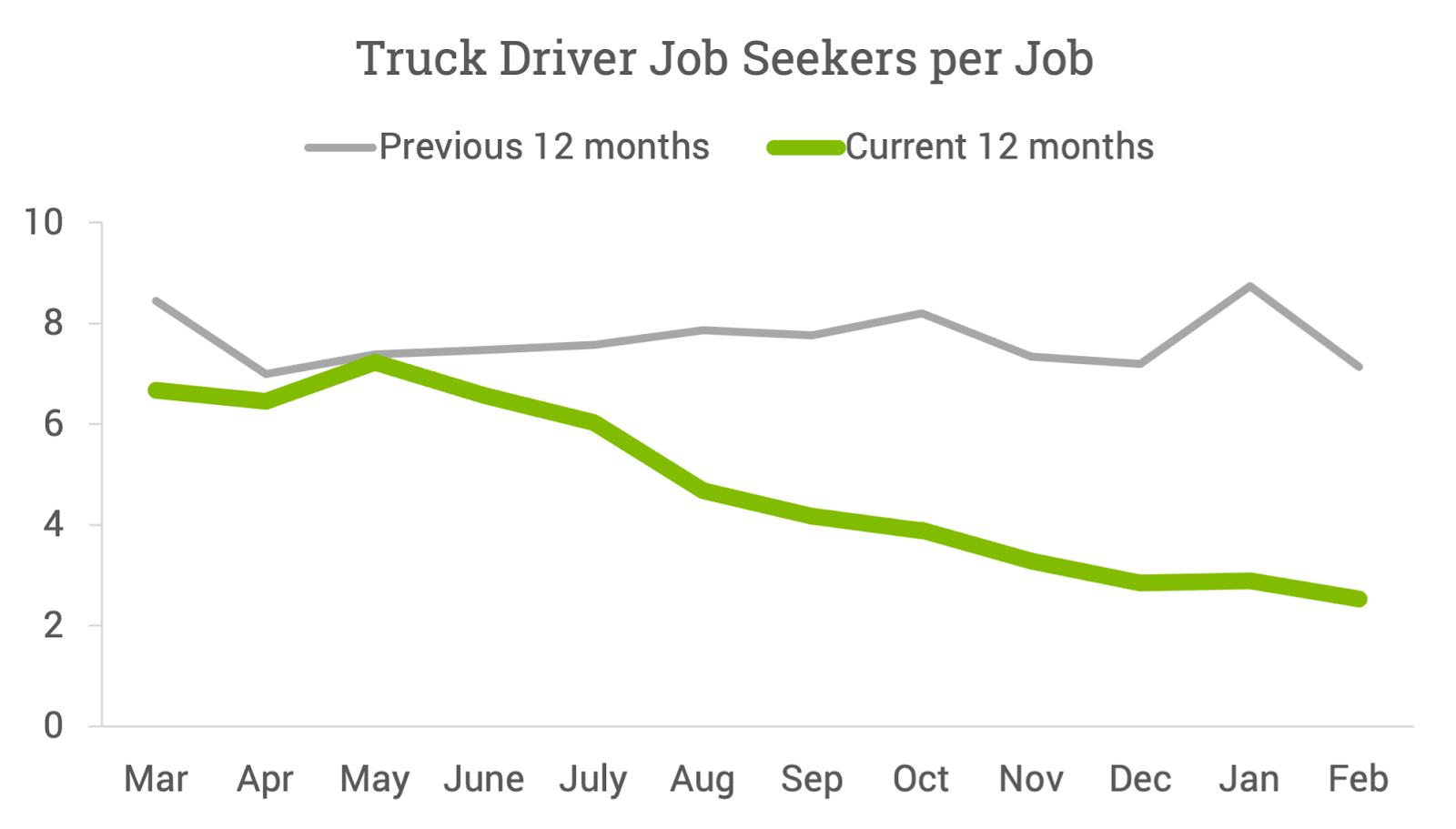 This will be a tough year for sure. You will need to be almost perfect to hit your goals. All elements of your recruiting will need to be as efficient as possible. All the way from capturing leads to orientation, you had better be on your A-game.
Here at Randall-Reilly, we are launching a content series about the best strategies during this historic time. We are going to arm you with 6 strategies to make you more competitive, or maybe even more important, 6 strategies to avoid.
But first, we want to give you the data that demonstrates what is going on in the industry. Below you can download a slide deck that will help you communicate to your internal team exactly what you're facing in the market right now.
But don't worry, it isn't all bad. With freight in its current state, remember, fleets are recouping the costs of recruiting faster than ever. And even though cost per lead and cost per hire have increased, they haven't increased the same way we're seeing freight increase..
There is still ample opportunity but it won't be easy to capture it. We are here to make you as competitive as possible in this new normal.

Need help communicating what you're facing? Download this slide deck that details what's happening with driver recruiting.
Download Slide Deck